Discover simple pleasures and exciting adventures in Muskoka, Algonquin Park and the Almaguin Highlands!
With four seasons of interest for the active or leisurely explorer, there are plenty of things to see and do in the naturally adventurous region known as Explorers' Edge.
Things to do around Almaguin & Muskoka
From your home base here at the inn, it's a comfortable country drive to:
Local Towns
Huntsville, Burk's Falls, Kearney, Sprucedale, Katrine, Magnetawan
Regional Towns
Parry Sound, Sundridge, South River
Provincial Parks
Algonquin Park, Arrowhead Park, Ragged Falls Park, Mikisew Park
Summer/Spring/Fall Active Adventures
Horseback riding, canoeing and kayaking, birding and nature viewing, nature photography, golfing, fishing, boating, lake & river swimming, hiking, cycling, geo-caching, Treetop Trekking
Winter Active Adventures
Dog sledding, snowshoeing, down hill skiing, cross country skiing, snow tubing, horse-drawn sleigh riding, snowmobiling, tobogganing, ice skating trail
Swimming and Boat Access
Free public swimming at sandy beaches, in deep drop-off lakes and in rushing rivers throughout the region. We know where the best spots are and will give you a map and directions. Some of our favourites include: Doe Lake, Clear Lake, Long Lake, Buck Lake, Round Lake, Magnetawan River, Big East River
Hiking Trails
The Seguin / Park-to-Park Recreation Trail borders our property. Locally and regionally, there are the Discovery Routes Trails, Algonquin Park day trails and Arrowhead Park day trails. Plus as a guest of the inn, you can hike or snowshoe our own private trails on our 120-acre property.
Sights of Interest
Brook's Falls, Screaming Heads, Dyer Memorial, Lion's Lookout, scenic spots, municipal parks, fall colours
Events, Arts & Culture
Small town Fall Fairs, Group of Seven Outdoor Gallery, Kearney Dogsled Races, Huntsville Half-Marathon Band on the Run, Algonquin Theatre, Huntsville Festival of the Arts, Nuit Blanche North, Huntsville's Girlfriends Getaway Weekend, Comics on the Rocks, Muskoka Heritage Place pioneer village and railway, antique shops, yard and barn sales, gift and craft shops, art studios and tours
Restaurants
in Huntsville: 3 Guys and a Stove, The Cottage Waterfront Grill, The Mill on Main, On the Docks Pub, Muskoka on the Rocks, Tall Trees, West Side Fish & Chips, big chains and fast food
in the Almaguin Highlands: Danny's Justa Pasta (Sundridge), Iron Skillet and Suds on Main (Kearney), Dee's Bistro and The Village Pub (Burk's Falls)
Where is the Almaguin Highlands region?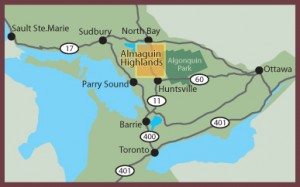 The Almaguin Highlands is located on the western slope of the Algonquin Dome, at the southern reaches of the Canadian Shield and the Northern reaches of the Carolinian Forest. It is an un-crowded, natural area abundant in lakes, rivers, hills and mixed forests.
Highway 11 is the main artery running through the region, with Muskoka immediately to our south, and North Bay capping us in the north. To our west is Parry Sound and Georgian Bay; to our east is world-famous Algonquin Park.
About 2.5 hours from Toronto, 3 hours from Sudbury, and 4 hours from Ottawa; we are close enough for a short escape, yet far enough to really get away from it all!