Relax or play… hike or snowshoe our private trails,  just leave the everyday stresses behind you!
Originally an 1880´s farmhouse, the inn has retained the character of a simpler time. It is furnished throughout with antiques and collectibles, combining old country charm with modern comfort.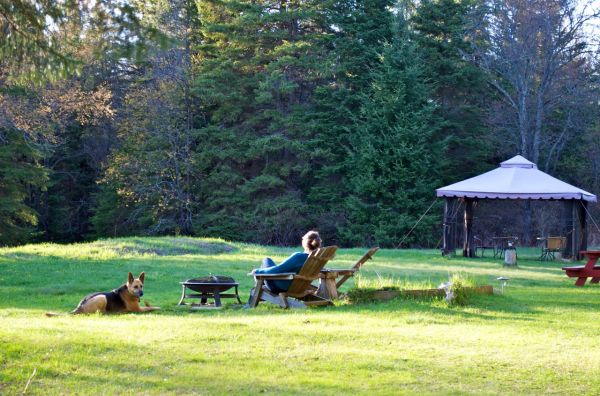 Unwinding Outside
Overlooking a little meadow is a screened canvas gazebo for enjoying the outdoors when insects are in season. Lounge on one of the decks and watch the feathered activity at our bird feeders. Chances are good you´ll have a visit from a hummingbird during a soak in the hot tub. In winter, feed the chickadees right from your hand.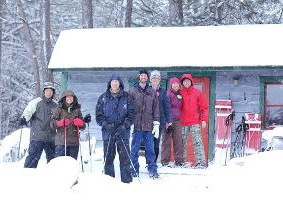 Guest Lounge
A rustic cabin, known as the Coop, provides a cozy guest lounge complete with wood-burning stove. There are puzzles, board games and lawn games for passing the time indoors or out. In winter, borrow snowshoes or toboggans to use on our trails and hill.

Exploring the Property and the Seguin Trail
Enjoy the naturalized gardens, meadows and private forest hiking trails on our 120-acre property. Pick a handful of wild blueberries, raspberries or blackberries in season. Explore the Seguin / Park-to-Park recreation trail which borders the property and is accessible just a short walk from your door. Keep your eyes open for deer and moose tracks along the way!
Free Wireless Internet
We hope you can unwind and unplug during your visit, but if you need to stay connected, free wireless internet (mid speed) can be accessed from your room or the main deck on your mobile device or laptop.